AM 2. FEBRUAR 2011 WIRD " LA CHANDELOURS" GEFEIRT !

 Stéphan Carbonnaux et Marie Coquet
AM 2. FEBRUAR 2011 WIRD " LA CHANDELOURS" GEFEIRT !
Jahrhundertelang an jedem 2. oder 3. Februar haben die Völker Mitteleuropas den Bär und das Verlassen seiner  Winterschlafhöhle gefeirt. Dieses Fest oft "Chandelours" in Anlehnung an "Chandeleur" (Mariälichtmess) genannt, wurde bis ins XVIII. Jahrhundert im ländlichen Frankreich begangen: das heisst gestern.

 Am 2. Februar 2010 haben einige von uns bei einer Crêpesparty la "Chandeleur" und la "Chandelours" gefeiert, mit dem einfachen Wunsch, eine uralte Tradition wieder zu beleben: den Bär, König unserer Wälder zu feiern.

 Dieses Jahr wollen wir wieder "La Chandelours" feiern und zugleich symbolisch die ganze wilde Natur unseres Kontinents Eurasiens mit einbeziehen, denn wir wissen, dass die wilde Natur sich mit ihrer ganzen Kraft nur im kontinentalen Massstab ausdrücken kann. Wenn wir akzeptieren, das diese wilde Natur sich nur in kleinen, von einander getrennten Reservaten entwickeln kann, degradieren wir sie zu einem Teil einer Kulisse,wie ein schönes Gebäude in einer schäbigen Stadt.

 Wir wollen auch "La Chandelours" feiern, weil wir spüren, dass das Dasein einer weiten Natur mit grossen Tieren an ihrer Spitze eine kulturelle, spirituelle und materielle Bereicherung ist, deren Wirkungen für die meisten von uns noch unvorstellbar sind, weil wir noch nicht in einer umfassenden biologischen Vielfalt leben.

 Und wir wollen auch "La Chandelours" feiern, und dabei mit Anteilnahme an unsere menschlichen und tierischen Brüder denken, die am Anfang dieses XXI. Jahrhunderts zwischen Atlantik und Japanischem Meer für ein würdiges Dasein kämpfen. Wir denken besonders an die iberischen Luchse, die meistgefährdeten Grosskatzen, an die Tiger des russischen fernen Ostens, die letzten eurosibirischen Tiger, an die Leoparden, an die Schneepanther, an die asiatischen Löwen, an die Wölfe, die Bären, die Wisente, die Elche, die Urpferde und an alle Menschen, die an die Verwilderung, Quelle der unendlichen Freiheit, arbeiten.

In unseren Häusern, in der Öffentlichkeit oder im Herzen der Natur wollen wir alle "La Chandelours" feiern !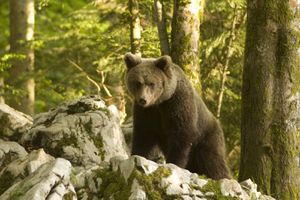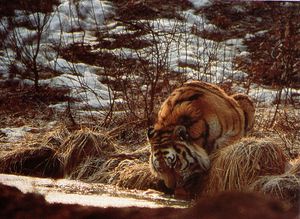 (crédits : Grégory Carbonnaux, Maurice Hornocker)
Der euroasiatische zweiköpfige Adler: der Bär in Slovenien
und der Tiger in Sibirien
Marie Coquet and Stephan Carbonnaux (Bearn, Pyrenees, FRANCE), Artzamendi – Nature, Wild and Civilization : www.artzamendi.fr), Alain and Michel Sennepin (Auvergne, FRANCE), 4 continents for tigers and Europe Tiger : www.avenir-tigres.com , have been joined by (from Western to Eastern Eurasia) :
Joao Pedro Galhano Alves, Doctor of anthropology, research worker (Europe, Africa and Asia), Lisbon University - PORTUGAL and Montpellier III University - FRANCE: galhanoalves@yahoo.fr
Laurent Caudine, artisan in art, ecologist and writer, Basque country, France: http://xiberoa.blogspot.com
Etienne H.Boyer, firstly shepherd, then web redactor, ecologist and writer, Basque Country, France : http://etiennehboyer.free.fr
Geneviève Cuisset, ecologist militant, Basque Country, France : http://jenolekolo.over-blog.com
Dimitri Marguerat, naturalist guide and birdwatcher, Basque Country/Provence, France: www.dimitrimarguerat.fr


Florian Rochet, naturalist and animator of Nature discovery activities, Bearn, Pyrenees, France : http://vers.nature.over-blog.com
Michel Chalvet, State Civil servant, naturalist and supporter of wild nature, Bearn, Pyrenees, France. Radicalement nature : http://radicalement-nature.over-blog.com/
Eugène Reinberger, engineer, syndicalist and ecologist, Bearn, France : hamazortzi_iraila@orange.fr
Philippe Pirard, doctor in medicine and naturalist, Paris, France : philippe_pirard@hotmail.com
Grégory Carbonnaux, principal of enterprise and naturalist, Val d'Oise, France: gregory@ch2o.fr
Anna Jeretic, artist painter, graver, carver and calligraphist, Seine-et-Marne, France : www.annajeretic.com
Gilbert Cochet, natural sciences Professor, National Museum of Natural History (Paris) correspondant, expert for Europe Council, naturalist, supporter of naturality and big fauna, writer, Ardeche, France : gilbert.cochet@wanadoo.fr
Antoine Nochy, professional ecologist, practitioner of rewilding processes (Yellowstone, USA), specialist of Wolves, supporter of big fauna, Cevennes/Montpellier, France : antoine.nochy@gmail.com
Philippe Charlier, State Civil servant, naturalist and supporter of mammals , Meuse, France, pcharlier@wanadoo.fr
Marc Michelot, naturalist and supporter of big fauna (particularly Tarpan horses), Ain, France : marc.michelot@club-internet.fr
Martine Massot, Tigrissima association, Provence, France : www.tigrissima.fr
Patrice Longour, veterinary, director of Monts d'Azur Reserve, Provence, France : www.haut-thorenc.com
Daniel Klich, Professor of Applied Ecology and specialist of wild horses and argalis, John Paul II catholic University, Lublin, POLAND : klich@kul.lublin.pl
Yuri Bersenev, biologist, Director of Zov tigra Park, Primorye, russian far east, Siberia, RUSSIA : Зов тигра Национальный парк zovtigra@mail.ru
Acknowledgements : we vigorously thank traductors : Alain Sennepin (English), georges Garcia (Spanish), Allande Etxart (Euskara), Olga Kluchnikov (Russian), Sabine Klöckner (German) and Joao Pedro Galhano Alves (Portuguese).