¡ CELEBREMOS LA « CHANDELOURS » EL 2 DE FEBRERO 2011 !

 Stéphan Carbonnaux et Marie Coquet
¡ CELEBREMOS LA « CHANDELOURS »
EL 2 DE FEBRERO 2011 !
urante siglos, cada 2 o 3 de febrero, las poblaciones de Europa templada celebraban el oso y la salida de su cubil. Esta fiesta, llamada Chandelours, (fusión de las palabras Chandeleur : Candelaria y ours : oso), en los pueblos de Francia subsistió por lo menos hasta finales del siglo XVIII, es decir ayer.
 El 2 de febrero 2010, unos cuantos de nosotros celebraron este día con crêpes, la Candelaria y la Chandelours, con la simple voluntad de reanudar los hilos de nuestra historia más remota y de celebrar el oso, rey de los bosques.
 Este año celebraremos de nuevo la Chandelours y la extenderemos simbólicamente al regreso de la grande naturaleza salvaje de nuestro continente : Eurasia. En efecto, sabemos que la naturaleza solo puede expresarse con toda su fuerza a escala continental. Resignarse a verla reservada solo a pequeños espacios aislados unos de otros, es hacer nada menos que un elemento del decorado, como un bonito edificio en una ciudad afeada.
 Celebraremos tambien la Chandelours porque sentimos que la existencia de una amplia naturaleza coronada por grandes animales es un enriquecimiento cultural, espiritual y material cuyos efectos son todavia inimaginables para la mayoría de nosotros por falta de vivir en biodiversidad total.
 Celebraremos por último, la Chandelours, con emotivo pensamiento para nuestros hermanos hombres y animales desde el Atlántico hasta el mar de Japón, que se baten por una existencia decente en este principio del siglo XXI. Pensamos, entre otras cosas, a los linces ibéricos, unos de los felinos más amenazados en el mundo, los tigres del extremo oriente ruso, última cepa de los tigres eurosiberianos, los leopardos, las panteras de las nieves, los leones de Asia, los lobos, los osos, los bisontes, los alces, los caballos primitivos, los buitres y aguilas, los salmones y esturiones, y a todos las personas que obran para el « resalvajemiento » ( poner salvaje de nuevo), fuente infinita de libertad.
¡ En nuestras casas, los lugares públicos o en el corazón de la naturaleza, celebremos la « Chandelours » !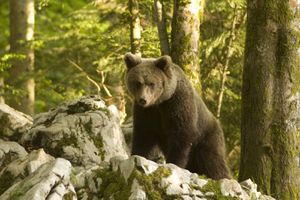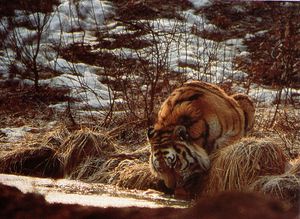 El águila bicéfala eurasiático : el oso, aquí en Eslovenia,
y el tigre aquí en Siberia.
Marie Coquet and Stephan Carbonnaux (Bearn, Pyrenees, FRANCE), Artzamendi – Nature, Wild and Civilization : www.artzamendi.fr), Alain and Michel Sennepin (Auvergne, FRANCE), 4 continents for tigers and Europe Tiger : www.avenir-tigres.com , have been joined by (from Western to Eastern Eurasia) :
Joao Pedro Galhano Alves, Doctor of anthropology, research worker (Europe, Africa and Asia), Lisbon University - PORTUGAL and Montpellier III University - FRANCE : galhanoalves@yahoo.fr
Laurent Caudine, artisan in art, ecologist and writer, Basque country, France : www.xiberoa.blogspot.com
Etienne H.Boyer, firstly shepherd, then web redactor, ecologist and writer, Basque Country, France : http://etiennehboyer.free.fr
Geneviève Cuisset, ecologist militant, Basque Country, France : http://jenolekolo.over-blog.com
Dimitri Marguerat, naturalist guide and birdwatcher, Basque Country/Provence, France: www.dimitrimarguerat.fr
Florian Rochet, naturalist and animator of Nature discovery activities, Bearn, Pyrenees, France : http://vers.nature.over-blog.com
Michel Chalvet, State Civil servant, naturalist and supporter of wild nature, Bearn, Pyrenees, France. Radicalement nature : http://radicalement-nature.over-blog.com/
Eugène Reinberger, engineer, syndicalist and ecologist, Bearn, France : hamazortzi_iraila@orange.fr
Philippe Pirard, doctor in medicine and naturalist, Paris, France : philippe_pirard@hotmail.com
Grégory Carbonnaux, principal of enterprise and naturalist, Val d'Oise, France : gregory@ch2o.fr
Anna Jeretic, artist painter, graver, carver and calligraphist, Seine-et-Marne, France : www.annajeretic.com
Gilbert Cochet, natural sciences Professor, National Museum of Natural History (Paris) correspondant, expert for Europe Council, naturalist, supporter of naturality and big fauna, writer, Ardeche, France: gilbert.cochet@wanadoo.fr
Antoine Nochy, professional ecologist, practitioner of rewilding processes (Yellowstone, USA), specialist of Wolves, supporter of big fauna, Cevennes/Montpellier, France: antoine.nochy@gmail.com
Philippe Charlier, State Civil servant, naturalist and supporter of mammals , Meuse, France, pcharlier@wanadoo.fr
Marc Michelot, naturalist and supporter of big fauna (particularly Tarpan horses), Ain, France : marc.michelot@club-internet.fr
Martine Massot, Tigrissima association, Provence, France: www.tigrissima.fr
Patrice Longour, veterinary, director of Monts d'Azur Reserve, Provence, France : www.haut-thorenc.com
Daniel Klich, Professor of Applied Ecology and specialist of wild horses and argalis, John Paul II catholic University, Lublin, POLAND: klich@kul.lublin.pl
Yuri Bersenev, biologist, Director of Zov tigra Park, Primorye, russian far east, Siberia, RUSSIA : Зов тигра Национальный парк zovtigra@mail.ru
Acknowledgements : we vigorously thank traductors : Alain Sennepin (English), georges Garcia (Spanish), Allande Etxart (Euskara), Olga Kluchnikov (Russian), Sabine Klöckner (German) and Joao Pedro Galhano Alves (Portuguese).