FESTEJEMOS A FESTA DO URSO A 2 DE FEVEREIRO 2011 !

 Stéphan Carbonnaux et Marie Coquet
FESTEJEMOS A FESTA DO URSO
A 2 DE FEVEREIRO 2011 !
urante séculos, cada 2 ou 3 de Fevereiro, as populações da Europa temperada festejavam o urso e a sua saída da toca. Esta festa, frequentemente chamada Chandelours ("Canto do Urso") nas zonas rurais de França, subsistiu pelo menos até ao século XVIII, isto é, até ontem.
 A 2 de Fevereiro de 2010, alguns de nós festejámos, durante uma refeição de crepes, a Chandeleur e a Chandelours, com a nossa vontade simples de retomar os fios da nossa história antiga e de celebrar o urso, rei das florestas.
 Este ano festejaremos de novo a Chandelours e vamos alargá-la, simbolicamente, ao retorno da grande natureza selvagem do nosso continente: a Eurásia. Efectivamente, sabemos que a natureza selvagem só se pode exprimir com toda a sua força à escala continental. Resignar-se a vela apenas em pequenos espaços isolados uns dos outros, é apenas transformá-la num elemento decorativo como um belo edifício numa cidade que se tornou feia.
 Também festejaremos a Chandelours porque sentimos que a existência de uma vasta natureza coroada por grandes animais é um enriquecimento cultural, espiritual e material cujos efeitos são ainda inimagináveis para a maior parte de nós, por não vivermos em biodiversidade total.
 Festejaremos a Chandelours com um pensamento profundo para com os nossos irmãos humanos e animais, do Atlântico até ao Mar do Japão, que se batem por uma vida decente neste início do século XXI. Pensamos particularmente nos linces ibéricos, que são dos felinos mais ameaçados do mundo, nos tigres euro-siberianos, nos leopardos, nas panteras das neves, nos leões da Ásia, nos lobos, ursos, bisontes, alces, cavalos primitivos, e as todas as pessoas que trabalham para a restauração do selvajem, fonte infinita de liberdade.
Nos nossos lares ou nos locais públicos, no coração da natureza,
festejemos a Chandelours !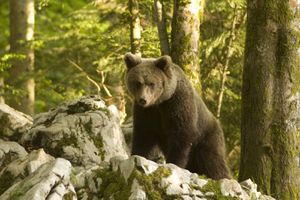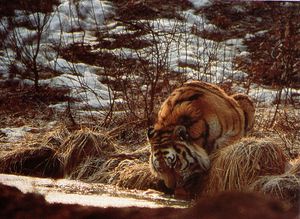 (crédits : Grégory Carbonnaux, Maurice Hornocker)
A águia bicéfala euro-asiática : o urso, neste caso da Eslovénia,
e o tigre, neste caso na Sibéria.
Marie Coquet and Stephan Carbonnaux (Bearn, Pyrenees, FRANCE), Artzamendi – Nature, Wild and Civilization : www.artzamendi.fr), Alain and Michel Sennepin (Auvergne, FRANCE), 4 continents for tigers and Europe Tiger : www.avenir-tigres.com , have been joined by (from Western to Eastern Eurasia) :
Joao Pedro Galhano Alves, Doctor of anthropology, research worker (Europe, Africa and Asia), Lisbon University - PORTUGAL and Montpellier III University - FRANCE : galhanoalves@yahoo.fr
Laurent Caudine, artisan in art, ecologist and writer, Basque country, France : http://xiberoa.blogspot.com
Etienne H.Boyer, firstly shepherd, then web redactor, ecologist and writer, Basque Country, France : http://etiennehboyer.free.fr
Geneviève Cuisset, ecologist militant, Basque Country, France : http://jenolekolo.over-blog.com
Dimitri Marguerat, naturalist guide and birdwatcher, Basque Country/Provence, France: www.dimitrimarguerat.fr
Florian Rochet, naturalist and animator of Nature discovery activities, Bearn, Pyrenees, France : http://vers.nature.over-blog.com
Michel Chalvet, State Civil servant, naturalist and supporter of wild nature, Bearn, Pyrenees, France. Radicalement nature : http://radicalement-nature.over-blog.com/
Eugène Reinberger, engineer, syndicalist and ecologist, Bearn, France : hamazortzi_iraila@orange.fr
Philippe Pirard, doctor in medicine and naturalist, Paris, France : philippe_pirard@hotmail.com
Grégory Carbonnaux, principal of enterprise and naturalist, Val d'Oise, France : gregory@ch2o.fr
Anna Jeretic, artist painter, graver, carver and calligraphist, Seine-et-Marne, France : www.annajeretic.com
Gilbert Cochet, natural sciences Professor, National Museum of Natural History (Paris) correspondant, expert for Europe Council, naturalist, supporter of naturality and big fauna, writer, Ardeche, France: gilbert.cochet@wanadoo.fr
Antoine Nochy, professional ecologist, practitioner of rewilding processes (Yellowstone, USA), specialist of Wolves, supporter of big fauna, Cevennes/Montpellier, France : antoine.nochy@gmail.com
Philippe Charlier, State Civil servant, naturalist and supporter of mammals , Meuse, France, pcharlier@wanadoo.fr
Marc Michelot, naturalist and supporter of big fauna (particularly Tarpan horses), Ain, France : marc.michelot@club-internet.fr
Martine Massot, Tigrissima association, Provence, France: www.tigrissima.fr
Patrice Longour, veterinary, et director of Monts d'Azur Reserve, Provence, France : www.haut-thorenc.com,
Daniel Klich, Professor of Applied Ecology and specialist of wild horses and argalis, John Paul II catholic University, Lublin, POLAND: klich@kul.lublin.pl
Yuri Bersenev, biologist, Director of Zov tigra Park, Primorye, russian far east, Siberia, RUSSIA : Зов тигра Национальный парк zovtigra@mail.ru
Acknowledgements : we vigorously thank traductors : Alain Sennepin (English), georges Garcia (Spanish), Allande Etxart (Euskara), Olga Kluchnikov (Russian), Sabine Klöckner (German) and Joao Pedro Galhano Alves (Portuguese).