HARTZAIRU OSPA DEZAGUN 2011KO OTSAILAREN 2AN !

 Stéphan Carbonnaux et Marie Coquet
HARTZAIRU OSPA DEZAGUN 2011KO OTSAILAREN 2AN !
endez mende eta otsailaren 2 edo 3an , Europako populuek ospatzen zuten hartza eta bere zilotik ateratzea. Frantziako bazterretan besta horrek Hartzairu zuen izen erabiliena eta iraun du XVIII. mendera arte, erran nahi baita atzo arte.
 2010ko otsailaren 2an lagun batzu bildu gira matahame afari baten karietara eta ospatu dugu Kandelairu eta Hartzairu, gure historia zaharreko harien berriz lotzeko nahian baita oihanetako errege hartzaren goratzeko.
 Aurten ere Hartzairu ospatuko dugu eta, sinbolikoki bada ere, gure kontinenteko natura salbai eta handiaren itzulerara hedatuko dugu, erran nahi baita Eurasiara. Badakigu bai natura salbaiak bere indarraren adierazteko kontinente baten hedadura merezi duela. Gune hersi eta bakartietan natura bazterturik onartzeak etsipena ekarten du, hala nola hiri itsusi batean etxe eder baten ikusteak dekorazio elementu soilera mugatzen dela ohartzean.
 Hartzairu ospatuko dugu senditzen dugulako natura zabal baten izatea, abere handiez inguraturik, aberastasun bat dela, kultur, ezpiritu eta materiel mailan. Horren ekarpenak ezin irudikatuak dira gutariko gehienentzat, ez dugulakoz ezagutzen biodibersitate osoa.
 Azkenean Hartzairu ospatuko dugu pentsamendu sendikor bat ukanez Atlantikotik Japoniako itsasoraino bizitza egoki baten alde borrokatzen diren abere eta giza anaier eta orai hasten den mende honetan. Gogoan ditugu bereziki iberiar katamotzak, hauek dira munduan gehienik mehatxaturik diren katu motak, errusiar ekialdeko tigreak, hauk dira euro-siberiako tigreen azken belaunaldiak, leopardak, elurretako panterak, Asiako lehoak, otsoak, hartzak, bisoiak, oreinak, basa zaldiak eta bereziki berriz basa bizitzearen alde lan egiten duten jendeak.
Gure etxetan edo leku publikoetan, naturaren erdian, ospa dezagun Hartzairu !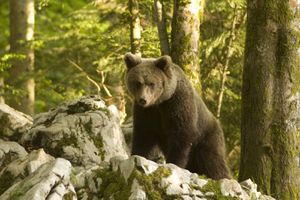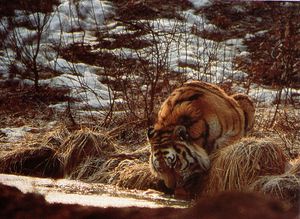 (crédits : Grégory Carbonnaux, Maurice Hornocker)
Eurasiako bi burutako arranoa : hartza hemen Eslovenian
eta tigrea han Siberian.
Marie Coquet and Stephan Carbonnaux (Bearn, Pyrenees, FRANCE), Artzamendi – Nature, Wild and Civilization : www.artzamendi.fr), Alain and Michel Sennepin (Auvergne, FRANCE), 4 continents for tigers and Europe Tiger : www.avenir-tigres.com , have been joined by (from Western to Eastern Eurasia) :
Joao Pedro Galhano Alves, Doctor of anthropology, research worker (Europe, Africa and Asia), Lisbon University - PORTUGAL and Montpellier III University - FRANCE : galhanoalves@yahoo.fr
Laurent Caudine, artisan in art, ecologist and writer, Basque country, France : www.xiberoa.blogspot.com
Etienne H.Boyer, firstly shepherd, then web redactor, ecologist and writer, Basque Country, France : http://etiennehboyer.free.fr
Geneviève Cuisset, ecologist militant, Basque Country, France : http://jenolekolo.over-blog.com
Dimitri Marguerat, naturalist guide and birdwatcher, Basque Country/Provence, France: www.dimitrimarguerat.fr
Florian Rochet, naturalist and animator of Nature discovery activities, Bearn, Pyrenees, France : http://vers.nature.over-blog.com
Michel Chalvet, State Civil servant, naturalist and supporter of wild nature, Bearn, Pyrenees, France. Radicalement nature : http://radicalement-nature.over-blog.com/
Eugène Reinberger, engineer, syndicalist and ecologist, Bearn, France : hamazortzi_iraila@orange.fr
Philippe Pirard, doctor in medicine and naturalist, Paris, France : philippe_pirard@hotmail.com
Grégory Carbonnaux, principal of enterprise and naturalist, Val d'Oise, France : gregory@ch2o.fr
Anna Jeretic, artist painter, graver, carver and calligraphist, Seine-et-Marne, France : www.annajeretic.com
Gilbert Cochet, natural sciences Professor, National Museum of Natural History (Paris) correspondant, expert for Europe Council, naturalist, supporter of naturality and big fauna, writer, Ardeche, France: gilbert.cochet@wanadoo.fr
Antoine Nochy, professional ecologist, practitioner of rewilding processes (Yellowstone, USA), specialist of Wolves, supporter of big fauna, Cevennes/Montpellier, France: antoine.nochy@gmail.com
Philippe Charlier, State Civil servant, naturalist and supporter of mammals , Meuse, France, pcharlier@wanadoo.fr
Marc Michelot, naturalist and supporter of big fauna (particularly Tarpan horses), Ain, France : marc.michelot@club-internet.fr
Martine Massot, Tigrissima association, Provence, France: www.tigrissima.fr
Patrice Longour, veterinary, director of Monts d'Azur Reserve, Provence, France : www.haut-thorenc.com
Daniel Klich, Professor of Applied Ecology and specialist of wild horses and argalis, John Paul II catholic University, Lublin, POLAND: klich@kul.lublin.pl
Yuri Bersenev, biologist, Director of Zov tigra Park, Primorye, russian far east, Siberia, RUSSIA : Зов тигра Национальный парк zovtigra@mail.ru
Acknowledgements : we vigorously thank traductors : Alain Sennepin (English), georges Garcia (Spanish), Allande Etxart (Euskara), Olga Kluchnikov (Russian), Sabine Klöckner (German) and Joao Pedro Galhano Alves (Portuguese).
vieron jean paul 16/02/2011 17:19
Stéphan Carbonnaux et Marie Coquet 17/02/2011 08:24