TO A « CHANDELOURS » CELEBRATION ON FEBRUARY 2nd 2011 !

 Stéphan Carbonnaux et Marie Coquet
TO A « CHANDELOURS » CELEBRATION
ON FEBRUARY 2nd 2011 !
uring centuries, every February 2nd or 3rd, human communities of European temperate regions have celebrated the bearcoming out of his den. This festival, often named « Chandelours » (phonetically equivalent to french « bearsong »), has been observed in french rural regions at least up to the eighteenth century, so yesterday on the historical scale.
 On February 2nd 2010, some of us have already celebrated both « Chandeleur » (traditional christian feast) and « Chandelours » during a meal with pancakes, with the simple Will to link again to our ancient history and celebrate the bear, king of forests.
 In the present year, we will celebrate « Chandelours » again, and will extend symbolically this manifestation to the come back of great wild nature in our continent Eurasia. Indeed, we know that wild nature can only give her whole efficacy at continental level. The common idea considering she might only exist in small areas isolated from each other implicates she would only be an ornemental element, like a beautiful building in an ugly city.
 Also, we will celebrate « Chandelours » because we feel that a huge Nature crowned by big wild animals powerfully contributes to a psychological, cultural and spiritual enrichment, whose consequences can't still be concepted by a great majority of us, as we alas don't live up to now in whole biodiversity.
 Endly, we will celebrate « Chandelours », thinking with brotherhood and emotion to our animal and human fellows from Atlantic Ocean to Japan Sea who fight for survival and existence in dignity in this beginning of 21st century. We think, of course, to iberian lynx, amongst the more threatened feline in the world, to tigers of oriental Russia, ultimate survivors nowadays, of their euro – Siberian lineage , as well as Asiatic panthers and cheetahs, snow leopards, wolves (grey or red), bears, european bisons, elks, primitive wild horses… We also think to people who work hard, with determination and bravery for rewilding huge eurasian area. In fact, this is not only a strong and efficient mean to offer better relations for men with Nature and their congeners, and moreover, beyond all that, the fundamental way to Liberty.
Come on to celebrate, in our homes, public areas or the heart of wild nature, an eurasian « Chandelours » !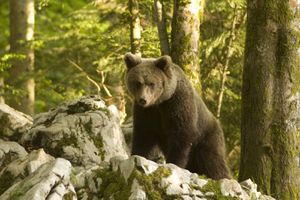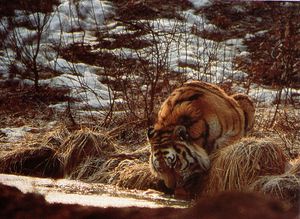 (Grégory Carbonnaux, Maurice Hornocker)
The two-headed eurasian Eagle : the bear, here in Slovenia,
and the tiger, here in Siberia
Marie Coquet and Stephan Carbonnaux (Bearn, Pyrenees, FRANCE), Artzamendi – Nature, Wild and Civilization : www.artzamendi.fr), Alain and Michel Sennepin (Auvergne, FRANCE), 4 continents for tigers and Europe Tiger : www.avenir-tigres.com , have been joined by (from Western to Eastern Eurasia) :
Joao Pedro Galhano Alves, Doctor of anthropology, research worker (Europe, Africa and Asia), Lisbon University - PORTUGAL and Montpellier III University - FRANCE: galhanoalves@yahoo.fr
Laurent Caudine, artisan in art, ecologist and writer, Basque country, France: http://xiberoa.blogspot.com
Etienne H.Boyer, firstly shepherd, then web redactor, ecologist and writer, Basque Country, France : http://etiennehboyer.free.fr
Geneviève Cuisset, ecologist militant, Basque Country, France : http://jenolekolo.over-blog.com
Dimitri Marguerat, naturalist guide and birdwatcher, Basque Country/Provence, France: www.dimitrimarguerat.fr
Florian Rochet, naturalist and animator of Nature discovery activities, Bearn, Pyrenees, France : http://vers.nature.over-blog.com
Michel Chalvet, State Civil servant, naturalist and supporter of wild nature, Bearn, Pyrenees, France. Radicalement nature : http://radicalement-nature.over-blog.com/
Eugène Reinberger, engineer, syndicalist and ecologist, Bearn, France : hamazortzi_iraila@orange.fr
Philippe Pirard, doctor in medicine and naturalist, Paris, France : philippe_pirard@hotmail.com
Grégory Carbonnaux, principal of enterprise and naturalist, Val d'Oise, France: gregory@ch2o.fr
Anna Jeretic, artist painter, graver, carver and calligraphist, Seine-et-Marne, France : www.annajeretic.com
Gilbert Cochet, natural sciences Professor, National Museum of Natural History (Paris) correspondant, expert for Europe Council, naturalist, supporter of naturality and big fauna, writer, Ardeche, France : gilbert.cochet@wanadoo.fr
Antoine Nochy, professional ecologist, practitioner of rewilding processes (Yellowstone, USA), specialist of Wolves, supporter of big fauna, Cevennes/Montpellier, France : antoine.nochy@gmail.com
Philippe Charlier, State Civil servant, naturalist and supporter of mammals , Meuse, France, pcharlier@wanadoo.fr
Marc Michelot, naturalist and supporter of big fauna (particularly Tarpan horses), Ain, France : marc.michelot@club-internet.fr
Martine Massot, Tigrissima association, Provence, France : www.tigrissima.fr
Patrice Longour, veterinary, director of Monts d'Azur Reserve, Provence, France : www.haut-thorenc.com
Daniel Klich, Professor of Applied Ecology and specialist of wild horses and argalis, John Paul II catholic University, Lublin, POLAND : klich@kul.lublin.pl
Yuri Bersenev, biologist, Director of Zov tigra Park, Primorye, russian far east, Siberia, RUSSIA : Зов тигра Национальный парк zovtigra@mail.ru
Acknowledgements : we vigorously thank traductors : Alain Sennepin (English), georges Garcia (Spanish), Allande Etxart (Euskara), Olga Kluchnikov (Russian), Sabine Klöckner (German) and Joao Pedro Galhano Alves (Portuguese).